We want to give your guest a fun experience, great photos, and give you a DVD full of memories. It also means that we have more options for fun and different activities for people using the booth. It all comes down to being a professional who is dedicated to a successful photo booth. This means that we understand what our booths can do and are eager to create a package that you will love. Don't let your photo booth be a boring part of your event.

Photo Booth Features and Options

Print Size Choices

2x6 (portrait or landscape)
* 4x6 * 5x7 * 2x8 * 6x8
Guests can also pick their picture layout while in the booth. All of these options help make the photo booth more entertaining.

Different Backgrounds

With green screen technology your guests can pick their own background. We have hundreds of green screen backgrounds available. This is a great way to add variety to your scrap book. We also have 15 different backgrounds including floral and metallic.


Enclosed, Open, Themed, Smaller, or Larger

You have choices with us. Your booth can be open-air or enclosed for privacy. We also have a retro option as well as small booths for the smaller venue.

Social Media and Slide Shows

Guests are free to post their pictures on social media, email or text. Other guests can watch the booth fun on a slide show.




Video Messages

Guests can leave a special video message while in the booth. We will watch all videos and create a DVD of family oriented messages and if needed a full DVDs with some of the "other" marital advice.


Included with every booth.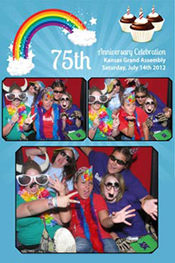 - Everyone in the picture receives their own copy.
- Quality Pictures. Digital cameras for clear photos of your guests having fun.
- You receive all images.

- Great prop selection. Your guests will enjoy the selection of props.


- Experience: We have been providing photo booths since 2009.

- Personalized layouts: Even if we are not doing social media you will receive a 6x4 version of the sessions.
- Background Options: With our green screen technology we have over 500 backgrounds available. You can even give us a picture and have it appear as the background behind your guests.

- Online access to all of the photos within 24 hours.
- Engaging professional attendants. Our booth attendants will work with a master of ceremonies or a DJ to make sure people know that the booth is there and to help your guests.
Rental Discounts and Savings
Saturday is our biggest rental day and that is when we often have all booths reserved. If you have an event which is not Friday or Saturday night we will work with you on special rates.

We also offer discounts to non-profit organizations and charities for fund raising. These are at our discretion so please contact us early. Please check out our FAQ page to learn more about these type of events.

We also have special pricing for daytime events and non-Saturday events. Our current after-prom package is $395 for three hours for a booth that prints and $299 for a social media only photo booth. This can include a slide show, social media, and many deluxe booth features. Please contact us to tell us about your event and let's see what we can create.

Photo Booth Software has so much flexibility that is unused.

These are just some of the ideas we would like to bring to your event.

Roaming Photo Booth Photos. We would like to roam through your event and take photographs of the guests in an interactive and fun manner. Images will then be printed at the booth for pickup.
More than a background. We would like to come up with a set that people can interact with, climb on, or simply become a part of. This would give your event photo booth photos a unique look. With our willingness to adjust the camera we can draw people into the picture.
Unique lighting and special effects. Photo booth lighting is designed to take group photographs. Our vision is to work with unique lighting giving more of a club look where guests can be captured like they were in a disco style lighting.
Interactive Photos. All photo booths have the ability to take photographs automatically based upon a timer. That is the traditional approach for a photo booth. One of our software packages allows us to take the photographs manually and that gives us the ability to talk to your guests and work to get them in just the right pose and moment when the camera takes their photograph.
If you would like to see even more examples please visit the Kansas Photo Booths website.
Yes we travel. Please call us to discuss availability. 316-755-2787