We are owned by one of Wichita's original photo booth owners. With over 15 years of experience and familiraity with most Wichita venues you considering a Wichita professional. Our experience includes outdoor events, corporate events, weddings, in-home parties, and events just like yours.

When comparing photo booth companies it is important to compare picture quality, ask questions, and then pick someone who cares about quality. We also suggest that you keep in mind that photography is all we do. The photographs that you and your guests receive are our only concern. We are available for weekday events and have special discounts for those events. We are willing to work with you to create a unique experience so feel free to ask for special services.

Don't let your photo booth be boring!

Photo Booth Options and Ideas

People Like Choices and We Have Them

We offer a variety of print sizes. We have everything from 2x6 (portrait or landscape) to 6x8.
Your guests can pick between different print designs. For a more personal approach
a photographer can direct people and take the photo at just the right moment. This is a great choice for pet or child oriented events.

Different Backgrounds

With green screen technology your guests can pick their own background. With hundreds of digital backgrounds and 20 cloth backgrounds we can accommodate most themes. Your scrap book will be more colorful with these options.


Video Messages

Guests can leave a special video message while in the booth. We will watch all videos and create a DVD of family oriented messages and if needed a full DVDs with some of the "other" marital advice.



Non-printing Rentals for the Environment

An increasing number of people are thinking more about what is printed and how it can impact the environment. If you have an event with a environmentat theme you can request that we remove printing from the package. Depending upon the number of hours that is usually an $80 deduction.



Guest can Email, Text or post to Social Media Sites

We have the option to post on social media from the booth. However, we recommend email or text. The reason is that when people are entering passwords and files are being sent a solid internet connection is required. That is not always possible at a venue.


.
Included with every booth.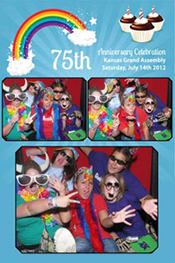 - Everyone in the picture receives their own copy.
- Quality Pictures. DSLR cameras for clear photos of your guests having fun.
- You receive a download link to all images.

- Great prop selection. Your guests will enjoy the selection of props.


- Experience: We have been providing photo booths since 2008.

- Personalized layouts: Even if we are not doing social media you will receive a 6x4 version of the sessions.
- Background Options: With our green screen technology we have over 500 backgrounds available. You can even give us a picture and have it appear as the background behind your guests.
- Engaging professional attendants. Our booth attendants will work with a master of ceremonies or a DJ to make sure people know that the booth is there and to help your guests.
Available Discounts and Savings
Saturday is our biggest rental day and that is when we often have all booths rented. If you have an event which is not Friday or Saturday night we will work with you for a special package.

We offer discounts to non-profit organizations and charities for fund raising. These are at our discretion so please contact us early. Please check out our FAQ page to learn more about these type of events.

Photo Booth Info for Charity & Non-Profit Events

Are you looking for professional entertainment for your non-profit or charity event in Wichita Area? A photo booth rental may be exactly the type of experience you're looking to add for your special event. With numerous options, flexible packages, and the option to earn extra money through donations or sponsorship, a photobooth can help your Detroit Area non-profit in ways you didn't think possible!

Below are just some of the reasons we are #1 in providing photo booths for Detroit area charity events:

Unlimited Use! - With our high quality photos and prints, guests can take photos as often as they'd like.
Prints For Every Guest! - We can print a copy for every guest in the photo.
Digital Copy Of All Prints! - Immediately after your event, you'll have the digital copy of all the pictures. Email them, post them, print them…they are all yours!
Professional Attendant! - Our highly trained photobooth attendant will be there to set-up, assist guests, and keep it running smooth.
Licensed And Insured! - We are fully licensed and insured to have our photo booths at any Wichita or central-Kansas event.

How our photobooths can Improve Your Non-Profit Group or Charity Event?

You want your guests to enjoy themselves. After all, they are donating their hard earned money for a good cause or have volunteered their time for your organization. Why not have the a picture of those memories to enjoy for years to come? Our booths not only generate smiles and laughter, but each guest has a souvenir to take home!
Our photos are customized just for your event. Do you have a sponsor willing to make a donation to have everyone receive their logo? What about printing coupons with each print? We can even do contests.
Affordable: We have a variety of packages that can meet your non-profit's needs and budget. We also offer a 15% minimum discount to any school or non-profit, helping you keep more donations!

Are you starting to see how renting a photo booth can be beneficial to your charity event. Regardless of your reason for renting a booth, it will bring a buzz to your event that will have people eagerly awaiting the next gathering.

The choice is simple – reward donors and volunteers at your charity event with a unique photo booth that can be customized specifically for your event. We have many options and ideas for your event.

Other Options for Even More Fun

Other possibilities than a traditional photo booth.

Roaming Photo Booth Photos. We like to roam through your event and take photographs of the guests in an interactive and fun manner. Images will then be printed at the booth for pickup.
Offer a photography set which is more than a background. We can work with you to come up with a scene that supports an event theme or creates a set. This can be a couch or a scene with wall hangings. This would give your event photo booth photos a unique look.
Interactive Photos. All photo booths have the ability to take photographs automatically based upon a timer. That is the traditional approach for a photo booth. One of our software packages allows us to take the photographs manually and that gives us the ability to talk to your guests and work to get them in just the right pose and moment when the camera takes their photograph.

Bringing fun to weddings, bar and bat mitzvahs, corporate and private parties since 2008.
Please call to discuss availability outside of the Wichita area. 316-644-9662