The Starter
A minimum of 6' wide. Often more.

Modern open air style
A nice set of props
Attendant
Social Media
Choice of background colors and styles
Photos are taken with a DSLR for best quality

Two Hours - $300 Three Hours - $375
The Finish
Up to 8' wide but are usually 7' wider
This allows larger groups to share the fun
Modern Open Air or Traditional Enclosed Style
Our most interesting props
Custom signs
Unique signs just for your party.
Attendant
Social Media Posting
Slide Shows

Two Hours - $425 Three Hours - $449
Included with every booth.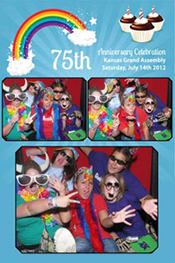 - Everyone in the picture receives their own copy.
- Quality Pictures. Digital cameras for clear photos of your guests having fun.
- You receive all images.

- Great prop selection. Your guests will enjoy the selection of props.


- Experience: We have been providing photo booths since 2009 and event photography for over 20 years.

- Personalized layouts: Even if we are not doing social media you will receive a 6x4 version of the sessions.
- Background Options: With our green screen technology we have over 500 backgrounds available. You can even give us a picture and have it appear as the background behind your guests.

- Online access to all of the photos within 24 hours.
- Engaging professional attendants. Our booth attendants will work with a master of ceremonies or a DJ to make sure people know that the booth is there and to help your guests.

Photo Booth Upgrades and Add-ons
* A memory album or scrap book is a popular add-on. If we supply the book it is $70 and if you supply the book it is $45. Our books have black pages with a place to insert the photos. Which ever option you select we will provide pens and glue(if required).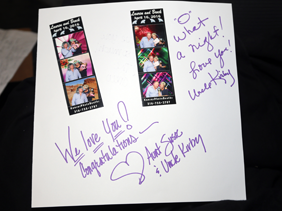 * Available print sizes are 2x8, 4x6 or 6x8. 4x6 and 2x8 is $50. 6x8 is a $85 dollar upgrade.
* Printed set of all sessions in a 6x4 format. This varies based upon the number of sessions. For most people it is less than $100.


* You can enclose the The Starter booth package for $45.


* Additional time is $70 an hour.
* Downtime - $30 an hour.


Booth Rental Discounts
Saturday is our biggest rental day and that is when we often have all booths reserved. If you have an event which is not Friday or Saturday night we will work with you on special rates.

We also offer discounts to non-profit organizations and charities for fund raising. These are at our discretion so please contact us early. Please check out our FAQ page to learn more about these type of events.

We also have special pricing for daytime events and non-Saturday events. Since these are based upon availability it is best to contact us for a quote.

Prom and After-Prom

Our current after-prom package is $350 for three hours for a booth that prints and $299 for a social media only photo booth. This can include a slide show, social media, and many deluxe booth features. We also have limited do-it-yourself options available. These DIY photo booth packages include printing and non-printing options are are typical $100 less than our regular packages.

Active and retired military receive a minimum of a 10% discount.
If you would like to see even more examples please visit the Kansas Photo Booths website.
Please call to discuss availability outside of the Wichita area. 316-755-2787