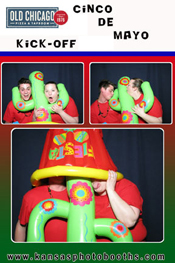 Do you carry insurance? Yes we do. We can provide a certificate of insurance upon request.
How many sessions can guests take? Booth sessions are unlimited! Depending upon your guests and how long they take to get positioned most sessions take about a minute and many people will come through several times.
Do you travel outside of the Wichita Ks area? Yes. We travel throughout Kansas and Northern Oklahoma.
Will there be an attendant on site? Yes! An attendant is there to be part of the entertainment. They are much more than a technition and prop organizer.
What if the guests want extra prints? We promise that all adults and children old enough to walk into the booth will get their own copy. Resonable requests for an extra are usually honored.
Can the booth be setup outside? Outside photo booths take some planning and picture quality outside may not be the same. Outdoor photo booths will have changing lighting conditions, wind, and sometimes poor electricity.
When are my payments due? Your first payment of $100 is due when you reserve your booth. Your second payment is due 30 days before your event. If you're booking closer to your event than 30 days, or you need special arrangements we'll work with you.
How much space do you need for the booth? The enclosed style booth requires about 8ft x 6ft. The open air photo booth can take up as little as 5ft by 4ft. A kiosk style booth with background can take as little as 2ft x 4ft. These are really minimum numbers. You still need to allow some room for lines and props.
Am I charged for set-up or tear down time? There is no extra charge for set-up. A three hour rental is three hours of run time. Yes, there is a nominal charge for down time.
Do you have back-up equipment?Yes! We carry a backup camera, flash and cords to every event. For out of town events or expected heavy usage events we will often carry a spare printer.